2023年1月17日
Bluefin Tuna sells for Rs 2 crore in Japan: Why is it so expensive?
Considered a delicacy, Bluefin Tuna is served at high-end sushi restaurants the world over. It has come a long way since it being known as 'trash fish' decades ago
FP Explainers January 06, 2023 17:55:53 IST
The head of a Bluefin Tuna purchased for Rs 2 crore. AFP
A Bluefin Tuna sold for more than Rs 2 crore at a New Year's auction in Japan on Thursday.
The first sale of the year more than doubled last year's price.
But what do we know about the Bluefin Tuna? And why is it so expensive?
Let's take a closer look:
What do we know about BlueFin Tuna?
As per the website Asahi.com, there are two different types of BlueFin Tuna – Pacific Bluefin Tuna and Atlantic Bluefin Tuna.
Of all the tuna species, these are the largest – they can get as big as four metres and weigh around 600 kilos.
As per the website, when these fish are growing they are called "meji" or "yokowa" – and are eaten as thinly sliced raw fish.
In Japan, Bluefin Tuna it is a delicacy that is in season during winter when it accumulates fat.
The Smithsonian.org calls Bluefin Tuna the world's 'most prized and valuable fish'.
But it wasn't always thus.
Decades ago, Bluefin Tuna were known as 'trash fish' – being sent to landfills, mashed up into pet food or simply cast back into the ocean, as per the website.
That all changed for Japan in the 1970s.
Demand for Bluefish Tuna increased after beef gained popularity and with it an hankering for strong flavours and dark flesh.
Meanwhile, cargo planes returning to Japan after delivering the latest electronics to the United States began purchasing cheap tuna fish and selling them back home at inflated prices.
"Bluefin tuna is an amazing example of something we have been made to think is an authentic Japanese tradition," Trevor Corson, author of The Story of Sushi told Food and Think. "Really, it was a marketing scheme of the Japanese airline industry."
Why is it expensive?
It comes down to basic supply and demand.
As Bluefin Tuna continues to be served in high-end restaurants the world over, its population remains low.
The Smithsonian reported that stocks of the Bluefin Tuna in the Pacific are estimated to be at just four per cent of the pre-fishing days.
As per Japan Times, the number of domestic bluefin Tuna sent to Tokyo's Toyosu wholesale market was around 220 between 1 December and Friday.
That's a 50 per cent decline since last year.
As per Business Insider, the price a customer pays for a Bluefin Tuna depends on where the fish is from, where it was raised, and where the customer is based.
It all depends on how far it has to travel to make it onto the plate – an American wanting to buy Bluefin Tuna from Japan can fork over hundreds of dollars.
Tuna that comes from Oma is considered the best in the world, as per Business Insider.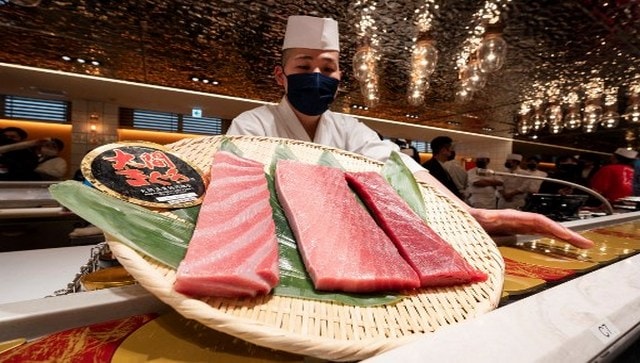 A sushi chef displays freshly-cut Bluefin Tuna. AFP
According to Bloomberg, Oma's Bluefin Tuna have been nicknamed 'black diamonds' because of their cost.
Regardless, it's never cheap no matter where you live.
Why the outrageous price for this particular fish?
This particular fish, which weighed 212 kilos, was caught off Oma in northern Aomori prefecture, as per Bloomberg.
Though it comes from Oma, the Bluefin Tuna isn't even average size.
So, what gives?
The answer has to do with Japanese culture – and marketing.
As Business Insider explained, in Japan, the first thing someone does all year is considered the most important thing they do.
The first act sets the tone for the entire year.
Thus, the first tuna of the year always goes for the highest price that year – which some companies happily pay to promote their brand.
In fact, this isn't even the most expensive fish ever sold.
In 2019 sushi chain owner Kiyoshi Kimura, also known as the 'Tuna king', paid Rs 2.4 crore for a fish.
In 2018, the first tuna that year sold for 2.6 crore.
In 2013, a 220 kilo fish sold for an incredible Rs 14 crore.
Source: https://www.firstpost.com/explainers/explained-bluefin-tuna-sells-for-rs-2-crore-in-japan-why-is-it-so-expensive-11943082.html